View cart
"Claddagh Earrings with Green Stone" has been added to your cart.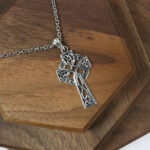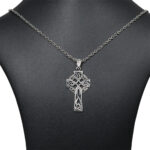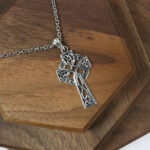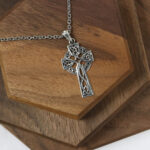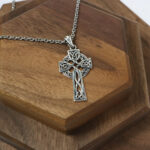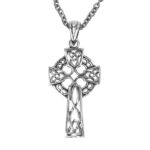 Triquetra Celtic Cross Sterling Silver Necklace
$25.00
Tartan Jewelry Gift Bag

Customizable tartan jewelry gift bag
Measures approximately 4inches wide by 5.5 inches long 
Pull string closure to keep your treasures safe
Bring tartan culture to everyday used
Celtic Cross
According to popular legend, the Celtic Cross was introduced by St Patrick when he was converting the pagans in Ireland to Christianity. Much of the oral history and wisdom of the old Celtic ways has been lost and our understanding of the symbolism of the Celtic Cross today is largely based on Roman writing and Christian monks who transcribed the mythology of the Celts. 
The symbolism of the Celtic cross is indicative of the human desire to know and experience the unfolding mystery of life. The arms of the cross offer four ways to ascension, an invitation to objectively know nature, wisdom, god/goddess, and the self.
The circles around the intersection of the cross represent unification, totality, wholeness, and inclusion.
Triquetra
The triquetra is a very old symbol and dates back to around 500 BCE. But its origins are a bit murky. Some scholars believe it to be Celtic in origin, and it's sometimes also called the Irish Trinity Knot. But the symbol is also found in Norse Viking imagery on artifacts like combs and saddles, and there's a Japanese form as well. The line is unbroken and never-ending and is said to represent many things, such as unity, protection, and everlasting life. Like many knots, it can be seen as a Celtic symbol for strength.
.925 Sterling Silver Pendant
18″ Stainless Steel Chain
Measures 1.25″ x .75″
Share your thoughts!
Let us know what you think...
Related products
Include products updated are similar or are same of quality