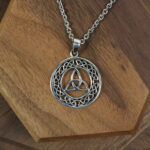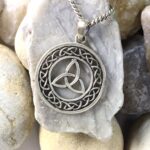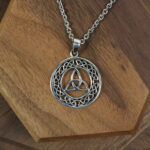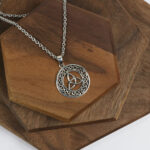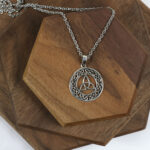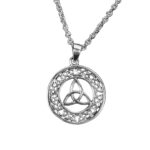 Celtic Triquetra Necklace
Trinity Knot (aka Triquetra)
Measures Approx. 1″ Across
Adjustable 18″ x 20″ Stainless Steel Chain
$30.00
Out of stock
Celtic Triquetra Necklace
Sterling Silver Celtic triquetra (trinity knot necklace). Approx. 1″ across. Comes with an 18″ – 20″ adjustable stainless steel chain.
Believed by many to be an ancient symbol of pre-Celtic and Celtic beliefs, the triple spiral appears in various forms in pre-Celtic and Celtic Art with the earliest examples having been carved on pre-Celtic stone monuments, and later examples found in Celtic Christian art. It is also believed that the Triquetra represents the three faces of the Goddess (virgin, mother, crone) and was later adopted to represent The Holy Trinity.
Triquetra (Trinity Knot)
Measures Approx. 1″ Across
Adjustable 18″ x 20″ Stainless Steel Chain
Share your thoughts!
Let us know what you think...
Related products
Include products updated are similar or are same of quality