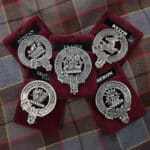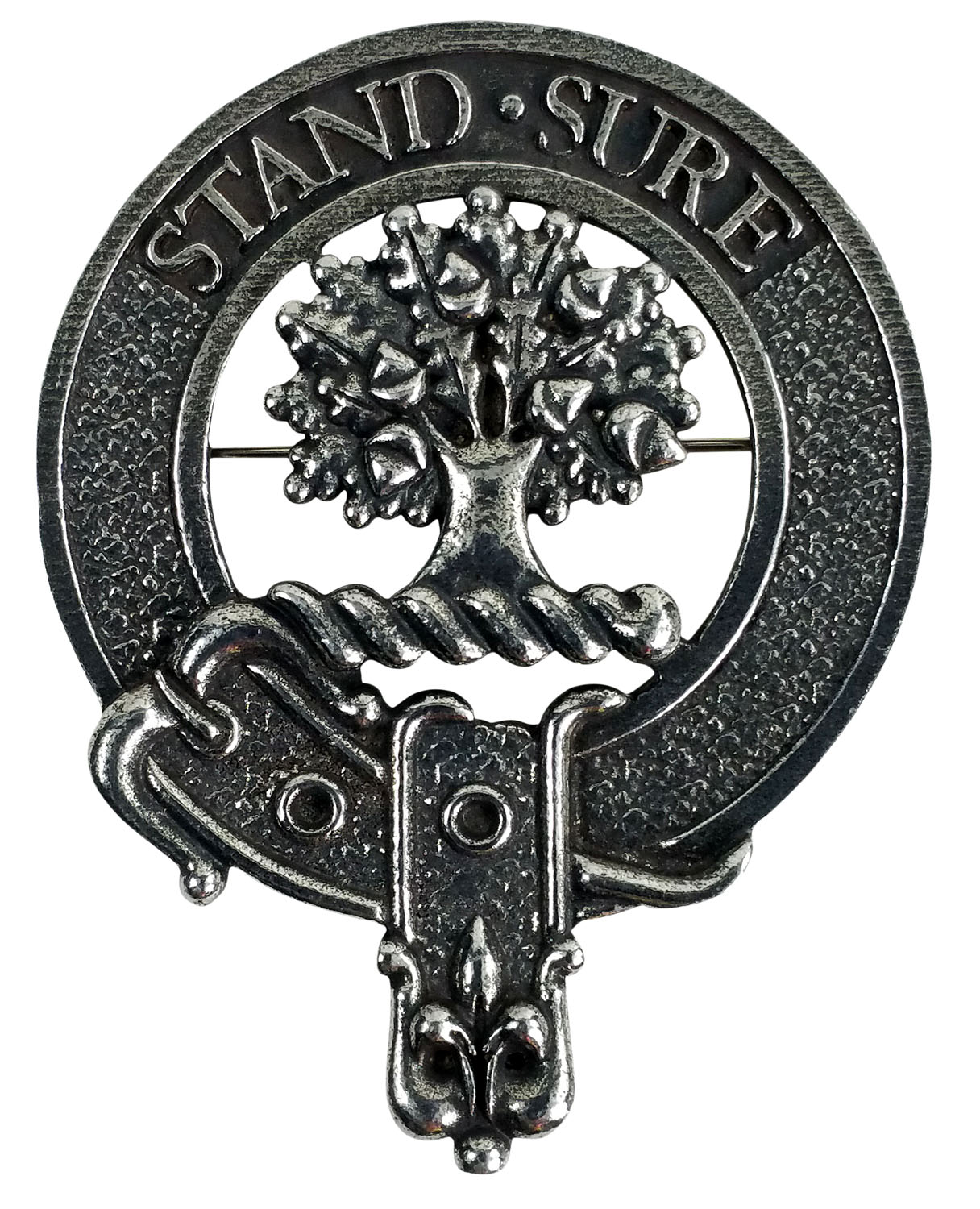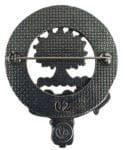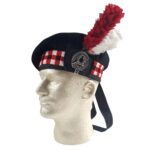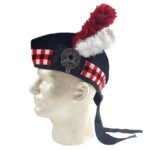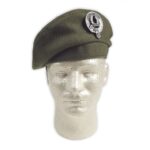 Pewter Clan Crest Cap Badge/Brooch
Made in Scotland with high-quality, lead-free pewter with an antiquated finish 
Choose between over 200 clans along with various non-clan symbols
Measures 2.5 inches tall by 2 inches wide; you can pin it anywhere  
We try to keep these in stock, but it's not always possible. Your order will be marked as a special order if we need to order it. Please allow 3-6 weeks for re-order
$30.00
Wear a piece of your Scottish heritage every single day. Pin this beautiful piece anywhere, such as your cap, backpack, or tote bag; the possibilities are endless! It is made in Scotland by skilled craftsmen with high-quality, lead-free pewter and measures 2 inches wide x 2.5 inches tall. 
It's antiqued finish will help you connect with your history and heritage. Each Scottish clan originates in the Highlands to a specific area and a particular clan chief. Choose between over 200 Scottish clans, along with non-clan symbols such as the Rampant Lion, Scottish Thistle, Scottish Piper, Saint Andrew's Cross, and Masonic.
Made in Scotland with high-quality, lead-free pewter with an antiquated finish 
Choose between over 200 clans along with various non-clan symbols
Measures 2.5 inches tall by 2 inches wide; you can pin it anywhere  
We try to keep these in stock, but it's not always possible. Your order will be marked as a special order if we need to order it. Please allow 3-6 weeks for re-order
| | |
| --- | --- |
| Weight | 0.06 lbs |
| Clan Crest List R | Abercromby, Agnew, Ainslie, Anderson, Anstruther, Arbuthnott, Armstrong, Arnot, Baillie, Baird, Ballantyne (Bannatyne), Bannerman, Barclay, Baxter, Bell, Bethune, Borthwick, Boyd, Boyle, Brodie, Bruce, Buchan, Buchanan, Burnett, Cameron, Campbell (of Argyll), Campbell of Breadalbane, Campbell of Cawdor, Carmichael, Carnegie, Cathcart, Chalmers, Charteris, Chattan (Clan), Chisholm, Clelland, Cochrane, Cockburn, Colquhoun, Colville, Craig, Cranstoun, Crawford, Crichton, Crosbie, Cummin(g), Cunningham, Dalrymple, Dalziel, Darroch, Davidson, Dewar, Douglas, Drummond, Dunbar, Duncan, Dundas, Dunlop, Durie, Elliot, Elphinstone, Erskine, Farquharson, Ferguson, Fleming, Fletcher, Forbes, Forrester, Forsyth(e), Fotheringham, Fraser, Fraser of Lovat, Galbraith, Galloway, Gartshore, Gordon, Graham, Grant, Gray, Grierson, Gunn, Guthrie, Haig, Haldane, Hamilton, Hannay, Hay, Henderson, Hepburn, Herries, Home (Hume), Hope, Hunter, Innes, Irvine, Jardine, Johnston(e), Keith, Kennedy, Kerr, Kincaid, Kinloch, Kinnaird, Lamont, Leask, Lennox, Leslie, Lindsay, Livingston(e), Lockhart, Logan, Lumsden, Lyon(s), MacAlister, MacArthur, MacAulay, MacBain (MacBean), MacCallum (Malcolm), MacDonald (Clan) (of the Isles), MacDonald of Clanranald, MacDonald of Keppoch, MacDonald of Sleat, MacDonell of Glengarry, MacDougall, MacDowall, MacDuff, MacEwan, MacFarlane, MacFie (MacPhee), MacGill, MacGillivray, MacGregor, Machine, MacInnes, MacIntyre, MacIver, MacKay, MacKenzie, MacKenzie of Seaforth, MacKie, MacKinnon, MacKintosh (MacIntosh), MacLachlan, MacLaine (of Lochbuie), MacLaren, MacLea, MacLean, MacLellan, MacLennan, MacLeod (Harris), MacLeod (Lewis), MacMillan, MacNab, MacNaughton, MacNeil(l) (Buaidh No Bas), MacNicol (Nicholson), MacPherson, MacQuarrie, MacQueen, MacRae, MacTavish, MacThomas, Maitland, Mar(r), Marjoribanks (Majoribanks), Matheson, Maxwell, Melville, Menzies, Middleton, Moffat, Moncreiffe, Montgomery, Morrison, Mow(e), Muir, Munro, Murray (Mermaid), Murray of Atholl (Demi-Savage), Napier, Nesbitt, Nicholson, Ogilvie, Oliphant, Paisley, Pollock, Primrose, Pringle, Ramsay, Rattray, Riddell, Robertson, Rollo, Rose, Ross, Russell, Ruthven, Sandilands, Scott, Scrymegour, Sempill, Shaw (of Tordarroch), Sinclair, Skene, Spens, Stewart, Stewart of Appin, Stirling, Strachan, Stuart of Bute, Sutherland, Swinton, Trotter, Turnbull, Tweedie, Urquhart, Wallace, Watson, Wedderburn, Weir, Wemyss, Wood, Young |
Share your thoughts!
Let us know what you think...
Related products
Include products updated are similar or are same of quality