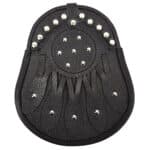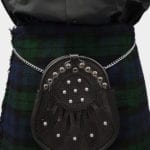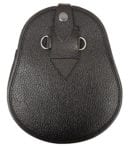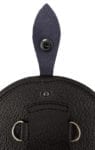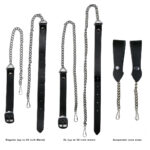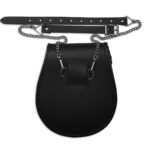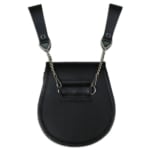 Studded Leather Sporran
5.00 out of

5

based on

2

customer ratings
Heritage meets badassery with the Studded Leather Sporran; rock your Celtic pride with this durable statement piece

Crafted from sleek black leather with heavy-metal accessories, it is ideal for concerts and traditional gatherings alike

Features chrome studs on a stylish embossed geometric pattern, which enhance this sporran to make it more than a storage system

Your preference of a chain strap(Comes with up to 46″ waist strap) or a highland dress innovation: the sporran suspender

(See our Premium Leather Sporran Chain Strap for a nice upgrade option)
$55.00
Out of stock
Studded Leather Sporran
Scots Wha Hae! Rock the Studded Leather Sporran wherever you go. We've updated the sporran for the present day so that you can sport it at concerts, bars, or out and about. Signal your Celtic pride and metal attitude (aren't they the same thing, at the end of the day) with this striking accessory. Chrome studs flash across an embossed black leather sporran, securely storing your belongings with an easy-to-use snap closure. Make this piece yours: choose between a chain strap in your size or a sporran suspender. You can practically hear the drums and electric guitars and bagpipes the minute you put it on.
Good-quality black leather
Chrome beaded pattern
Top opening design
Snap closure
Comes with standard chain strap or sporran suspender
(See our Premium Sporran Chain Strap for a nice upgrade option)
What is a Sporran?
The sporran, Scottish Gaelic for "purse", a traditional part of Scottish Highland dress, is a pouch that performs the same function as pockets on the pocketless kilt. Made of leather or fur, the ornamentation of the sporran is chosen to complement the formality of dress worn with it. Modern use is to hold your phone, flask, and wallet.
Tip of the Day
Never run with a heavy sporran!
Related products
Include products updated are similar or are same of quality