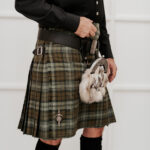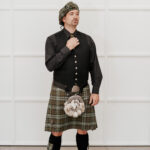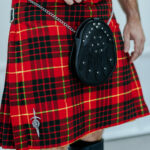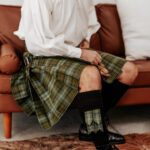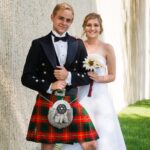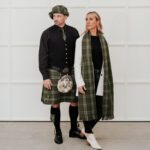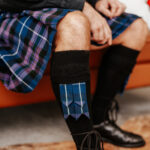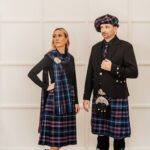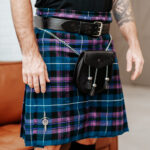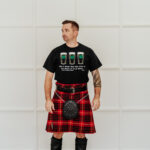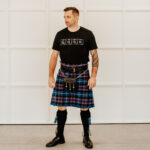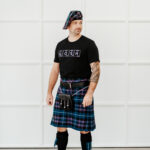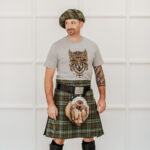 Irish Quality Wool-Blend Kilt + Flashes and Kilt Hanger
$150.00
Quality Wool Blend Kilt with Matching Tartan Flashes and FREE Kilt Hanger
Available in Five Popular Irish Tartans!
Our Quality Wool Blend Kilt is great for athletes, casual wear, first-time buyers, or those on a budget. This kilt is great to have in your closet as an extra kilt to save wear and tear on your nicer kilts. They are also so nice we use them for your rentals and many customers use them for weddings and other formal occasions. Made from 4-6 yards of our Homespun wool-blend tartan (55/45 blend of polyester & wool). Machine-stitched pleats are each about 1″ wide, and 3-4″ deep. Fully lined with three straps and buckles and belt loops, makes these kilts hard to tell the difference from those that are made in Scotland.
Five popular Irish tartans to choose from
Homespun quality wool-blend
Made from 4-6 yards of tartan
Fully lined
Three straps and buckles (No Velcro)
Belt loops
Made to fit — because one size does not fit all!
Matching tartan flashes included
FREE Kilt Hanger included
HOWEVER, please keep in mind that this is NOT a custom tailored kilt, so it will most likely not fit as if it was tailored for you. The waist and hip size is about the same. If your hip measurement is more than 4 inches larger than your waist, then the kilt may not fit well. If you are looking for a tailor made look, please purchase one of our Premium Custom-Tailored Kilts.
About the Fabric
Our Homespun Tartan is made from a 55/45 blend of polyester & wool, woven by hand on old-world looms. It looks very authentic to what would have been woven historically. The yarn is worsted, but not spun as tightly as modern machine-made tartan. The cloth is also not as tightly woven. Homespun tartan will pleat by hand easily, but will not develop a sharp edge. Small snags, pulls, holes and other assorted blemishes are common. Because it is hand woven, these flaws are a natural part of it's character.
How To Measure for Your Kilt
Have someone help you. If you bend over even a bit, your measurement will not be correct.
Measure your waist size in inches at the navel (belly button). This is the traditional kilt waist. Alternatively, for a more casual look, many men prefer to wear their kilts at the pants waist. If this is what you choose, then measure comfortably around your waist where the top of your pants rest. Or, If you intend to wear your kilt mostly for formal occasions, and you have a bit more around the middle than you might like to have, you may want to measure a little higher than the navel to get over the crest of the "beer gut". The higher waist will help your kilt stay up where it belongs.
Measure around your hips (butt) at the fullest point (usually 6-8 inches below the waist).
Measure from your waist (kilt waist or pants waist accordingly) to about the middle of the knee.
Your Kilt is Guaranteed to Fit!
Our goal is to make the ordering of your kilt as stress free and enjoyable as possible. The last thing you need to worry about is whether or not your kilt will fit you like it should. So, to put you at ease, we are willing to guarantee your kilt will fit! Please see our Right Fit™ Guarantee for all the details.
We look forward to handling your kilt order! Please don't hesitate to ask if you have any questions. (Also, we would love to have some feedback from you if our fit guarantee helped you to make your decision to order.) Thanks!
Special-order just for you. Please allow 4-10 weeks for delivery. Please click for important information about special-order items.
| | |
| --- | --- |
| Weight | 4 lbs |
| Choose Your Tartan | Irish Green (Non-Clan), Saint Patrick, Solid Green Modern, Solid Saffron, Ulster Red Modern |
| Waist Size (Inches) | 28W, 29W, 30W, 31W, 32W, 33W, 34W, 35W, 36W, 37W, 38W, 39W, 40W, 41W, 42W, 43W, 44W, 45W, 46W, 47W, 48W, 49W, 50W, 51W, 52W, 53W, 54W, 55W, 56W, 57W, 58W, 59W, 60W, 61W, 62W, 63W, 64W, 65W, 66W, 67W, 68W, 69W, 70W, 71W, 72W |
| Hip Size (Inches) | 28H, 29H, 30H, 31H, 32H, 33H, 34H, 35H, 36H, 38H, 40H, 42H, 44H, 45H, 46H, 47H, 48H, 49H, 50H, 51H, 52H, 53H, 54H, 55H, 56H, 57H, 58H, 59H, 60H, 61H, 62H, 63H, 64H, 65H, 66H, 67H, 68H, 69H, 70H, 71H, 72H, 73H, 74H |
| Length (inches) | 18L, 19L, 20L, 21L, 22L, 23L, 24L, 25L, 26L |
Share your thoughts!
Let us know what you think...
Related products
Include products updated are similar or are same of quality