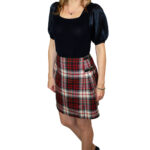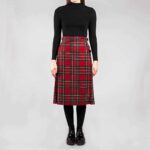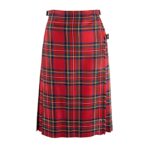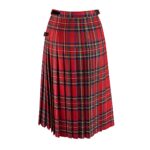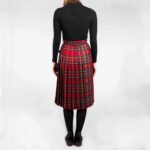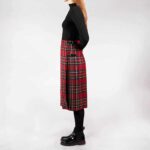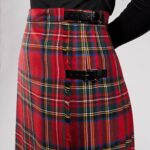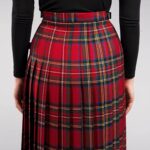 Poly Viscose Standard Ladies' Kilted Skirt
$229.00 – $264.00
Poly Viscose Standard Ladies' Kilted Skirt
Scottish kiltmakers make these beautiful skirts to order in Scotland from poly/viscose tartan. Kilted skirts have three 3/4″ straps and buckles. If you have wool sensitivities, you'll definitely prefer this skirt. You won't only find this skirt more comfortable than a wool one, but also more affordable!
Made in Scotland
Customized to Your Measurements
Poly/Viscose Tartan 
Three 0.75″ Straps and Buckles
Comfortable, Affordable, No Itch
Matching Accessories Available
Custom-made just for you! Please allow 6-12 weeks for delivery. Please click for important information about custom-order items.
Measuring Instructions: (measure in inches)
Waist — Measure comfortably around your desired waist. This could be at the navel, which is traditional, or anywhere else you want. For example, our daughter Kaurina prefers to wear her skirts at the currently popular "hip waist". We really don't recommend this though, for a Hostess Kilt.
Hip — Measure around your hips at the fullest point.
Length — Measure from your desired waist to your desired length.
For more information on measurements see our measuring info page.
You'll Love These Selections, Too!
In addition the skirt highlighted here, we also carry a Light Weight Deep-Pleated Kilted Skirt, Light Weight Kilted Skirt, and House of Edgar made Medium Weight Kilted Skirt. The deep pleats use up more fabric, making the skirt a little warmer. Light weight tartan is cooler and more breathable than medium weight. This makes it comfortable to wear at summer events. However, medium weight tartan holds a crisper pleat, and is more durable than light weight tartan.
What is Poly/Viscose?
Poly is short for polyester, which is a durable, smooth, synthetic fiber. You may know viscose by the name rayon. Workers make rayon from cellulose fiber, which comes from wood and plants. In this case, the viscose imitates wool. These two fibers blend together to create a durable, non-felting, non-pilling, hypoallergenic fabric. Yet, it retains the same wonderful, natural aesthetics of wool.
| | |
| --- | --- |
| Weight | 1.5 lbs |
| Marton Mills Poly/Viscose Tartan List P | Anderson Modern, Auld Lang Syne Grey, Baird Modern, Bath, Bedford Check, Black Watch Ancient, Black Watch Modern, Black Watch Modern Small Sett, Black Watch Modern Tiny Sett, Buccleuch Modern, Buchanan Antique, Cameron of Erracht Modern, Campbell of Cawdor Modern, Cladish, Clark Modern, Colquhoun Ancient, Douglas (Green) Ancient, Douglas (Green) Modern, Earl of St. Andrews, Elliot Modern, Farquharson Modern, Ferguson Modern, Gem, Gordon Dress Modern, Gordon Modern, Gordon Red Weathered, Graham of Menteith Modern, Grey Granite, Grey Highlander, Gunn Modern, Hamilton Red Modern, Holyrood Modern, Isle of Arran, Isle of Skye, Lindsay Modern, MacBeth Modern, MacDonald Clan Modern, MacGregor (Red) Modern, MacKay Ancient, MacKenzie Dress Modern, MacKenzie Modern, MacLean Hunting Modern, MacLean of Duart (Red) Weathered, MacLeod Dress (Lewis) Modern, MacLeod Hunting (Harris) Modern, MacMillan Black (Unofficial), MacNaughton Muted, MacNeil (Hunting) of Barra Modern, MacQueen Modern, MacQueen of Skye, MacRae Hunting Ancient, Malcolm Modern, Menzies Black & White, Menzies Black & White (Red Stripe), Murray of Atholl Ancient, Murray of Atholl Modern, Norman, Oakleigh (unregistered non-clan), Prince of Wales, Ramsay Blue Ancient, Ramsay Blue Modern, Robertson Red Modern, Scottish National Modern, Spirit of Scotland Modern, Stewart Black Modern, Stewart Camel Modern, Stewart Dress Modern, Stewart Hunting Modern, Stewart Navy Modern, Stewart Royal Modern, Thomson Camel Modern, Thomson Grey Modern, Thomson Grey Modern Small Sett, Wallace Red Modern, Warrior (non-clan) |
| Waist Size (Inches) | 26W, 26.5W, 27W, 27.5W, 28W, 28.5W, 29W, 29.5W, 30W, 30.5W, 31W, 31.5W, 32W, 32.5W, 33W, 33.5W, 34W, 34.5W, 35W, 35.5W, 36W, 36.5W, 37W, 37.5W, 38W, 38.5W, 39W, 39.5W, 40W, 40.5W, 41W, 41.5W, 42W, 42.5W, 43W, 43.5W, 44W, 44.5W, 45W, 45.5W, 46W, 46.5W, 47W, 47.5W, 48W, 48.5W, 49W, 49.5W, 50W, 50.5W, 51W, 51.5W, 52W |
| Hip Size (Inches) | 26H, 26.5H, 27H, 27.5H, 28H, 28.5H, 29H, 29.5H, 30H, 30.5H, 31H, 31.5H, 32H, 32.5H, 33H, 33.5H, 34H, 34.5H, 35H, 35.5H, 36H, 36.5H, 37H, 37.5H, 38H, 38.5H, 39H, 39.5H, 40H, 40.5H, 41H, 41.5H, 42H, 42.5H, 43H, 43.5H, 44H, 44.5H, 45H, 45.5H, 46H, 46.5H, 47H, 47.5H, 48H, 48.5H, 49H, 49.5H, 50H, 50.5H, 51H, 51.5H, 52H |
| Length (inches) | 18L, 18.5L, 19L, 19.5L, 20L, 20.5L, 21L, 21.5L, 22L, 22.5L, 23L, 23.5L, 24L, 24.5L, 25L, 25.5L, 26L, 26.5L, 27L, 27.5L, 28L |
Share your thoughts!
Let us know what you think...
Related products
Include products updated are similar or are same of quality