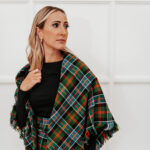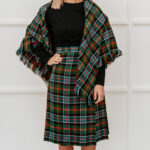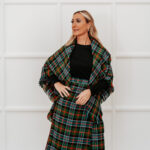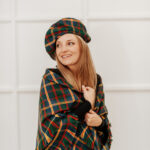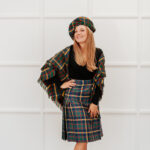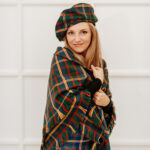 Tartan Shawl – Poly Viscose Wool Free
$109.00
Tartan Shawl, Poly Viscose (Tartan List P)
Whether you want a shawl as an accessory to any outfit or as something to wrap up in on a chilly day, we've got you covered! With our shawls made from tartans woven in Scotland, you can add a Celtic flair anywhere you go! These versatile shawls measure 56 inches by 56 inches, so you can wear them any way you want. The quality poly/viscose blend is a durable and comfortable fabric that gives you the natural look of wool without the itching—a win-win! You'll love the quality and weight of the material so much you might start wearing this every day, no matter the season!
Custom-made just for you! Please allow 3-6 weeks for delivery. Please click for important information about custom-order items.
| | |
| --- | --- |
| Weight | 1 lbs |
| Marton Mills Poly/Viscose Tartan List P | Anderson Modern, Auld Lang Syne Grey, Baird Modern, Bath, Bedford Check, Black Watch Ancient, Black Watch Modern, Black Watch Modern Small Sett, Black Watch Modern Tiny Sett, Black Yellow Check, Blue Red Small Sett, Buccleuch Modern, Buchanan Antique, Cameron of Erracht Modern, Campbell of Cawdor Modern, Cladish, Clark Modern, Colquhoun Ancient, Douglas (Green) Ancient, Douglas (Green) Modern, Earl of St. Andrews, Elliot Modern, Farquharson Modern, Ferguson Modern, Gem, Gordon Dress Modern, Gordon Modern, Gordon Red Weathered, Graham of Menteith Modern, Green Red Check, Grey Blue Check, Grey Granite, Grey Highlander, Grey Red Check, Gunn Modern, Hamilton Red Modern, Holyrood Modern, Hunter Modern, Isle of Arran, Isle of Skye, Kilnsey Navy Check, Lindsay Modern, MacBeth Modern, MacDonald Clan Modern, MacGregor (Red) Modern, MacKay Ancient, MacKenzie Dress Modern, MacKenzie Modern, MacLean Hunting Modern, MacLean of Duart (Red) Weathered, MacLeod Dress (Lewis) Modern, MacLeod Hunting (Harris) Modern, MacMillan Black (Unofficial), MacNaughton Muted, MacNeil (Hunting) of Barra Modern, MacQueen Modern, MacQueen of Skye, MacRae Hunting Ancient, Malcolm Modern, Menzies Black & White, Menzies Black & White (Red Stripe), Menzies Navy, Murray of Atholl Ancient, Murray of Atholl Modern, Norman, Oakleigh (unregistered non-clan), Prince of Wales, Ramsay Blue Ancient, Ramsay Blue Modern, Robertson Red Modern, Scott Weathered, Scottish National Modern, Spirit of Scotland Modern, Stewart Black Modern, Stewart Camel Modern, Stewart Dress Modern, Stewart Hunting Modern, Stewart Navy Modern, Stewart Royal Modern, Thomson Black, Thomson Camel Modern, Thomson Grey Modern, Thomson Grey Modern Small Sett, Wallace Red Modern, Wallington, Warrior (non-clan), Westgate |
Share your thoughts!
Let us know what you think...
Related products
Include products updated are similar or are same of quality