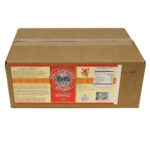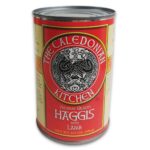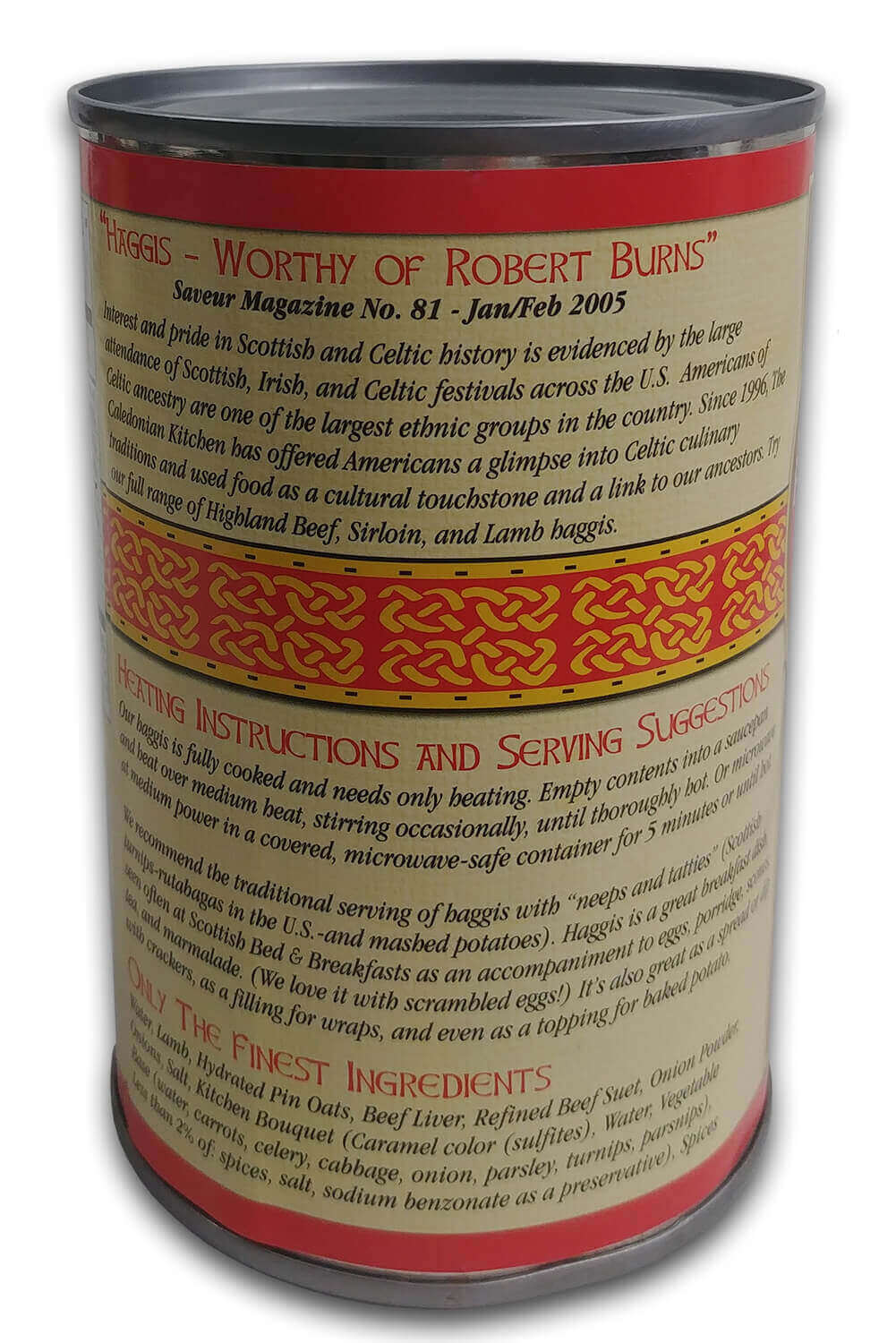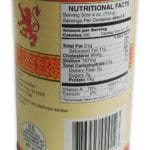 Traditional Lamb Haggis Case of 12 Cans
Made in the USA
14.5 oz. Can
Traditional Lamb Haggis
Authentic Taste
IN STOCK
$180.00
Traditional Lamb Haggis Case of 12 Cans
Lamb Haggis Case of 12 cans. A full case of 12 cans! If you really like your haggis, why not save some money and buy it by the case!
Lamb is not quite as suited to American palates as beef, but tends to be more traditional in haggis recipes. We have found that most customers end up liking the lamb haggis better than the beef. Try them both and let us know what you think! The boys and I have graduated on to the Hard-core haggis, but the traditional lamb has remained Lorie's favorite. 14.5 once can. Made in the USA.
Made in the USA
14.5 oz. Can
Traditional Lamb Haggis
Authentic Taste
IN STOCK
We carry three different types of haggis: Traditional Lamb Haggis, Hardcore Haggis, and Highland Beef Haggis. If you've got a Burns Night (aka Burns supper) to attend, or just really love haggis, consider saving some cash on our 12 can listings of Lamb, Hardcore, or Beef.
Ingredients: Water, lamb, hydrated pin oats, beef liver, refined beef suet, onion powder, onions, salt, kitchen bouquet (caramel color (sulfites), water vegetable base (water, carrots, celery, cabbage, onion, parsley, turnips, parsnips), less than 2% of: spices, salt, sodium benzonate as a preservative), spices
Nutritional Facts:
Serving Size: 4oz
Servings Per Container: about 4
Calories Per Serving: 330     Calories from Fat: 190
Total Fat: 21g
Cholesterol: 90mg
Sodium: 187mg
Total Carbohydrate: 21g
Protein: 14g
Please note- Due to a manufacturer error, some cans state the calories per serving as 30 – this is NOT miracle haggis! We are working to correct this. The calories per serving are indeed 330.
Share your thoughts!
Let us know what you think...
Related products
Include products updated are similar or are same of quality