View cart
"Cornish Pewter with Real Amber Set" has been added to your cart.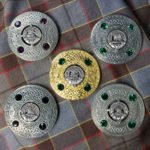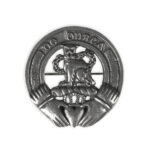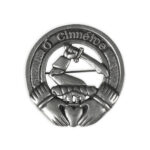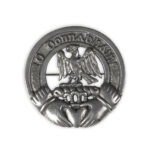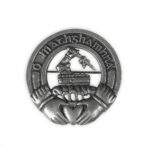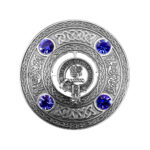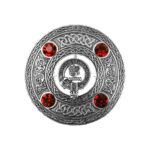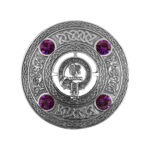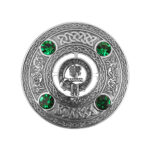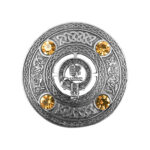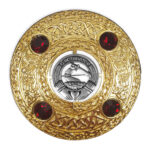 Irish Coat of Arms Plaid Brooch
SKU:

AICPB

Categories: Celtic Jewelry, Celtic Pins and Brooches, Highland Accessories, Irish Badges, Brooches, Buckles, and Kilt Pins, Irish Tartans and Stuff, Plaid Brooches, Sash and Plaid Brooches, Tartan Day Essentials
Tags: Coat of Arms, Gold, Irish, Made in Scotland, Pewter, Special-Order
$65.00
Tartan Jewelry Gift Bag

Customizable tartan jewelry gift bag
Measures approximately 4inches wide by 5.5 inches long 
Pull string closure to keep your treasures safe
Bring tartan culture to everyday used
Your custom-order Coat of Arms Plaid Brooch is a breathtaking adornment to any plaid. The finest-quality pewter, intricacy, and authentic Glaswegian artisanship form an ornate setting for four dazzling gems, available in five colors. Red, green, yellow, blue, or purple, choose whichever sets off your style best. The brooch measures 2 ⅞ inch diameter. It features a durable pin-back that fits steadfastly on a sash or plaid. Are you worried about finding the right crest for your family? We offer this brooch in over 100 Irish coat of arms for a tribute worthy of your family and its legacy. Your heritage matters, so display your family pride with dazzling quality. 
| | |
| --- | --- |
| Weight | 0.5 lbs |
| Irish Coat of Arms | Brennan (O'Braonain), Brown(e) (de Brun), Burke (de Burca), Byrne (O'Broin), Caroll (O'Cearbhaill), Collins (O'Coileain), Connolly (O'Conghaile), Daly (O'Dalaigh), Do(c)herty (O'Dochartaigh), Doyle (O'Dubhghaill), Duffy (O'Dubhthaigh), Dunne (O'Duinn), Flynn (O'Floinn), Fox (O'Sionnaigh), Gallagher (O'Gallchobhair), Harp, Hughes (O'hAodha), Joyce (Seoigh), Kavanagh (Caomhanach), Kennedy (O'Cinneide), Lynch (de Lench), Maguire (McUidhir), Martin (O'Martain), McCarthy (McCarthaigh), McDermot (McDiarmada), McDonnell (McDomhnaill), McGillcuddy (Mc Giolla Chuda), McLoughlin (McLochlainn), McSweeney (McSuibhne), Moore (O'Mordha), Murphy (O'Murchadha), Nolan (O'Nuallain), O'Brien (O'Briain), O'Callaghan (O'Ceallachain), O'Connell (O'Conaill), O'Conor (O'Conchobhair), O'Donnell (O'Domhnaill), O'Donoghue (O'Donnchadha), O'Donovan (O'Donnabhain), O'Grady (O'Graidaigh), O'Kelly (O'Ceallaigh), O'Long (O'Longain), O'Mahony (O'Mathghamhna), O'Neill (O'Néill), O'Rourke (O'Ruairc), O'Sullivan (O'Suileabhain), O'Toole (O'Tuathail), Quinn (O'Cuinn), Reilly (O'Raghailligh), Ryan (O'Maoilrian), Shamrock, Walsh (Breathnach) |
| Finish | Gold, Pewter |
| Stone Color | Blue, Green, Purple, Red, Yellow |
Share your thoughts!
Let us know what you think...
Related products
Include products updated are similar or are same of quality