View cart
"Don McKee Celtic Knot Kilt Belt Buckle" has been added to your cart.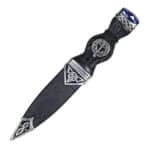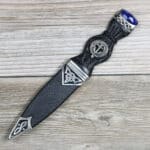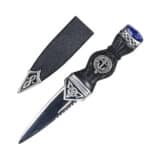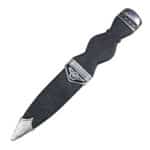 Celtic Knot Clan Crest Sgian Dubh
Sgian Dubh Made in Scotland
Silver Crest Handcrafted in Canada
Available in 300+ Clan Crests
Made to Order – Please allow 2-4 weeks for delivery
$95.00
SCOTTISH CLAN CREST HIGHER QUALITY SGIAN DUBH
This sgian dubh is made by The Sgian Dubh Company in Scotland and is the highest quality sgian dubh on the market today. Each comes in its own high quality blue presentation box. Clearly "Made in Scotland".
This beautiful Sgian Dubh or traditional Scottish black handled knife is available mounted with your Clan crest in lead free pewter or fine sterling silver. All Clans are available. This is our high end Sgian dubh and comes in a blue presentation box. It is very well made with the handle and sheath made of a resin and plated metal fittings
The Clan crest is surrounded by a detailed belt and buckle design upon which is inscribed your clan motto in raised relief lettering. Each piece is exquisitely handcrafted in high detail in sterling silver. The Clan Crest is 11/16″ (19.5 mm) in diameter. In ancient times, the chief of the Clan presented to his clansmen his crest for them to wear as a symbol of their loyalty and Clan affiliation.
Sgian Dubh Made in Scotland
Silver Crest Handcrafted in Canada
Available in 300+ Clan Crests
Made to Order – Please allow 2-4 weeks for delivery
| | |
| --- | --- |
| Weight | .5 lbs |
| Clan Crest List CS | Abercromby, Abernethy, Adair, Agnew, Ainslie, Akins, Alexander, Allison, Anderson, Anstruther, Arbuthnott, Armstrong, Baillie, Bain, Baird, Balfour, Ballantyne (Bannatyne), Bannerman, Barclay, Baxter, Beaton, Bell, Bethune, Beveridge, Bisset, Black, Blair, Borthwick, Boswell, Boyd, Boyle, Brodie, Brown(e), Bruce, Buchan, Buchanan, Burnett, Burns, Butter, Calder, Cameron, Campbell (of Argyll), Campbell of Breadalbane, Campbell of Cawdor, Campbell of Loudoun, Carmichael, Carnegie, Cathcart, Chalmers, Charteris, Chattan (Clan), Cheyne, Chisholm, Christie, Clark(e), Clelland, Cochrane, Cockburn, Colquhoun, Colville, Cooper, Craig, Cranstoun, Crawford, Crichton, Crosbie, Cummin(g), Cunningham, Currie, Dalrymple, Darroch, Davidson, Denniston, Dewar, Douglas, Drummond, Dunbar, Duncan, Dundas, Dunlop, Durie, Elliot, Elphinstone, Erskine, Falconer, Farquharson, Ferguson, Fleming, Fletcher, Forbes, Forrester, Forsyth(e), Fotheringham, Fraser, Fraser of Lovat, Fullerton, Galbraith, Galloway, Gardyne, Gartshore, Gayre, Gibson, Gillespie, Gladstone, Glass, Glen, Gordon, Gow, Graham, Graham of Menteith, Grant, Gray, Grierson, Gunn, Guthrie, Haig, Haldane, Hall, Hamilton, Hannay, Hay, Henderson, Hepburn, Herries, Hog, Home (Hume), Hope, Horsburgh, Houstan, Hunter, Inglis, Innes, Irvine, Irvine of Bonshaw, Jardine, Johnston(e), Keith, Kennedy, Kerr, Kilgour, Kincaid, Kinnaird, Kinnear, Kinnimond, Kirkpatrick, Laing, Lamont, Lauder, Learmonth, Leask, Lennox, Leslie, Lindsay, Little, Livingston(e), Lockhart, Logan, Lumsden, Lyle, Lyon(s), MacAlister, MacAlpine, MacArthur, MacAulay, MacBain (MacBean), MacBeth, MacCall, MacCallum (Malcolm), MacCorquodale, MacCubbin, MacCulloch, MacDonald (Clan) (of the Isles), MacDonald of Clanranald, MacDonald of Sleat, MacDonell of Glengarry, MacDonnell of Keppoch, MacDougall, MacDowall, MacDuff, MacEwan, MacFadyen, MacFarlane, MacFie (MacPhee), MacGill, MacGillivray, MacGregor, MacIan, MacInnes, MacIntyre, MacIver, MacKay, MacKellar, MacKenzie, MacKenzie Seaforth Highlanders, MacKie, MacKinlay, MacKinnon, MacKintosh (MacIntosh), MacLachlan, MacLaine (of Lochbuie), MacLaren, MacLean, MacLellan, MacLennan, MacLeod of Harris (hunting green), MacLeod of Lewis (dress yellow), MacMicking, MacMillan, MacNab, MacNaughton, MacNeil of Gigha, MacNeil(l) (Buaidh No Bas), MacNicol (Nicholson), MacPhail, MacPherson, MacQuarrie, MacQueen, MacRae, MacTavish, MacThomas, Maitland, Mar(r), Marjoribanks (Majoribanks), Matheson, Maxwell, Melville, Menzies, Middleton, Miller, Mitchell, Moffat, Moncreiffe, Montgomery, Morrison, Moubray, Mow(e), Mowat, Muir, Muirhead, Munro, Murray (mermaid), Murray of Atholl (demi-savage), Murray Old (peacock), Nairn, Napier, Newlands, Nisbet, Ogilvie, Oliphant, Paisley, Paterson, Pentland, Pitcairn, Pollock, Preston, Primrose, Pringle, Purves, Ramsay, Rattray, Riddell, Robertson, Rollo, Rose, Ross, Russell, Rutherford, Ruthven, Sandilands, Scott, Scrymegour, Sempill, Shaw (of Tordarroch), Sinclair, Skene, Smith, Somerville, Spa(u)lding, Spens, Stewart, Stewart of Appin, Stewart of Atholl, Stirling, Strachan, Stuart of Bute, Sutherland, Swinton, Taylor, Thom(p)son, Trail, Trotter, Turnbull, Tweedie, Urquhart, Walker, Wallace, Wardlaw, Watson, Wedderburn, Weir, Wemyss, Wilson, Wishart, Wood, Young |
| Color | Amethyst, Blue, Emerald |
Share your thoughts!
Let us know what you think...
Related products
Include products updated are similar or are same of quality